The West Cambridge site covers a 66 hectare site on University land. Its site boundaries are Madingley Road to the north, Clerk Maxwell Road to the east, the Coton Footpath to the south and the M11 to the west.
The Current Site
The existing West Cambridge site is home to a number of major academic research occupiers including the Cavendish Laboratory, the Whittle Laboratory and Department of Veterinary Medicine. Commercial research and research institute occupiers to the western side of the site include Schlumberger, Aveva and British Antarctic Survey.
There are currently construction works for the Maxwell Centre for the Department of Physics, the Chemical Engineering and Biotechnology building, and the CAPE Extension as part of Electrical Engineering.
The remainder of future development on the West Cambridge site will take into account the review of the masterplan so the area can be brought forward with cohesive design principles that reflect the vision of the scheme.
Click on the plan below to view a larger image of the site.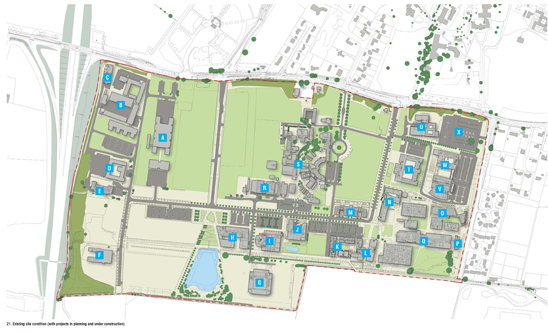 The Background
Development at West Cambridge has taken place over a long period since the 1960s. A planning permission granted in 1999 provides the current framework for the development of the site, but this has proved inflexible in response to changing University and occupier requirements.This inflexibility has:
held back collaboration between academic departments and between academic users and commercial research occupiers
led to an inconsistent approach to design, so the site today lacks a clear character or sense of place, with relatively low density development and large areas of surface car parking resulting in a reliance on access by private car, with relatively poor public transport access
made it difficult to provide social facilities (shops, cafes, restaurants) for users on the site.
The masterplan review is the opportunity to set out the vision and principles for the development site, that will meet the University's needs for the next 40 years.